Bill Bordass of William Bordass Associates and The Usable Buildings Trust originally proposed this article.
Many thanks to Bill for his valuable input and assistance during its creation. CIBSE Journal editor Alex Smith provided the (puntastic) title. The full text of the article is available from CIBSE, both as a pdf of the whole January 2015 issue, or using their online reader.
The article provides an overview of ICT energy use in typical commercial buildings, and illustrates techniques which can be used to reduce energy demand as well as the magnitude of savings which are typically attainable.
ICT frequently dominates electrical energy use in office buildings. In buildings which have been carefully engineered to reduce other forms of energy use, this dominance can be dramatic (see for example the CIBSE Oct 2014 article on the Woodland Trust headquarters).
References and Further Reading
Cost Effective changes in the Computer Room
The benefits and implications of increased computer room operating temperatures
Choosing the optimal computer room operating temperature set-point: - "Data Center Operating Temperature: The Sweet Spot" David L. Moss - Dell Data Center Infrastructure
Failure Trends in a Large Disk Drive Population - Google (Proceedings of the 5th USENIX Conference on File and Storage Technologies) February 2007
Datacenter Scale Evaluation of the Impact of Temperature on Hard Disk Drive Failures - University of Virginia / Microsoft 2010
Hard Drive Temperature - Does It Matter - Backblaze May 2014
Server room temperature myth busting - energy savings, disk failure and temperature - Carbondescent.org.uk June 2011
An approach taken by SEOSS is to apply a conservative intake-air set-point of around 25 degrees, and specify equipment which is tolerant to excursions above this (equipment tolerant to 45 degree intake temperatures is widely available). Cooling equipment needn't be capable of maintaining the 25 degree set-point year-round, as long as the maximum equipment intake temperature isn't exceeded.
Increased cooling system efficiency using "hot aisle" or "cold aisle" air containment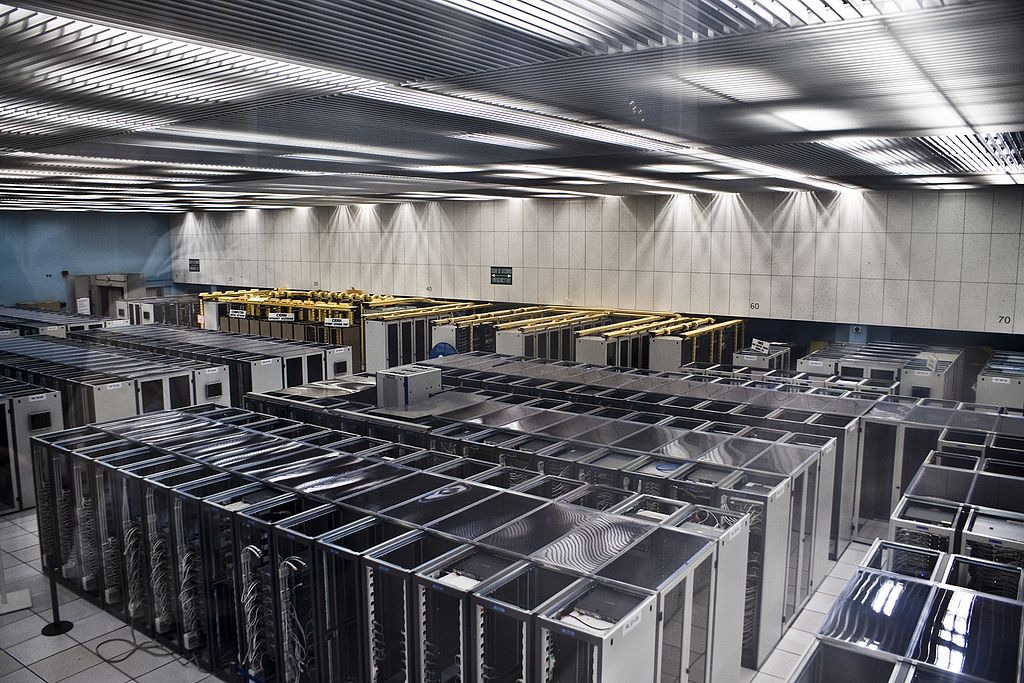 High efficiency cooling system implementations
An evaporative cooling scheme employed at the Cambridge University Engineering department.
A critical appraisal of the cooling system (and related infrastructure) in-use at Facebook's main datacentre (full specs here: here). A similar appraisal of one of Google's data centres. Both by James Hamilton (see 'General background references' section below).
A presentation on an evaporative cooling system retrofit at the M247 data centre in Manchester. By Alan Beresford of EcoCooling.
A broad range of general advice is available in the ASHRAE Datacom publications
Zero Refrigeration for Data Centres in the USA - Robert Tozer PhD CEng Sophia Flucker CEng MASHRAE
Peer 1 Saves With Evaporative Data Centre Cooling - Tech Week Europe - Excool evaporative coolers at Peer 1 in Portsmouth
Alan Beresford (MCIBSE) on implementation of his company's evaporative coolers - Inside Networks Nov 2013
Implementation of EcoCooling's evaporative cooling at Nottingham Trent University (CIBSE Journal Oct 2011, Page 44)
Increasing Average Equipment Utilisation
The NASA-originated OpenStack project allows organisation to create "Private Cloud" computing infrastructure - with many of the savings of commercial operators. Whilst other similar software is available, we favour OpenStack, since its open source nature prevents "vendor lock-in".
Ensuring the enthusiastic involvement of the ICT department
Cambridge University's Electricity Incentivisation Scheme is interesting since the individual faculties and Colleges operate in a reasonably autonomous fashion, and as a result various responses to the scheme can be seen. The incentivisation scheme provided the impetus for the Cambridge University Engineering Department's evaporative cooling schemes mentioned above.
General background references
The IP Phone power bill can be high - No Jitter, 2010
The dominance of mobile devices Device shipments 2014 (Gartner) and Device shipments 2013 (IDC) Market share of Desktop PC vs. battery-powered computer (and devices which share their internal architecture).
James Hamilton's blog
James Hamilton's (Distinguished Engineer at Amazon) blog is an invaluable resource. Some of his blog posts are included above, other selected posts include:
James' take on a Design for a 7MW datacentre in Ireland by EcoCooling
The scales at which cloud infrastructure providers operate
Utilising the low grade heat produced by large scale datacentre deployments for evaporating liqueified natural gas at quayside terminals and reducing the power requirements of Desalination.
This article includes an image by Florian Hirzinger available at https://commons.wikimedia.org/wiki/File:CERN_Server_03.jpg under the Creative Commons Attribution-Share Alike 3.0 Unported license ©2009, Florian Hirzinger.